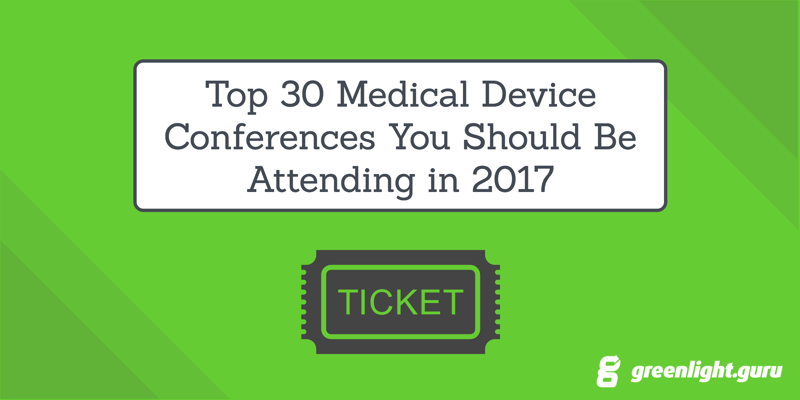 If you're looking to land your company's next big deal, keep up on the latest regulatory trends, forge new connections, or learn new skills, attending the right conferences and industry events can turn out to be a home run.
The problem is with so many medical device conferences out there to choose from, how do you know which ones are high quality and worth your time? Luckily for you, we've scoured the web, solicited the feedback and done the research.
Below are the top 30 medical device conferences to attend in 2017. These are all conferences that greenlight.guru founder and VP of QA/RA, Jon Speer, is either speaking at, has spoken at in the past, attended or heard positive feedback about.
Free Bonus Giveaway: Click here to instantly download a PDF of the Top 30 Medical Device Conference to Attend in 2017 to save and reference for yourself later (or share with a colleague).
January 9-12, 2017 - San Francisco, CA
The annual J.P. Morgan Healthcare Conference is the largest and most informative healthcare investment symposium in the industry, bringing together industry leaders, emerging fast-growth companies, innovative technology creators, and members of the investment community.
January 10-11, 2017 - San Francisco, CA
The MedTech Showcase is a dedicated home for the MedTech community during the BioTech Showcase conference. MedTech Showcase includes a state-of-the-industry plenary and MedTech investment landscape workshop, which creates a forum for innovative MedTech companies to share their technologies with investors and potential commercial partners.
February 7-9, 2017 - Anaheim, CA
Join the World's Largest Annual Medtech Event. Medtech moves fast. For 32 years, MD&M West has helped take medical devices from concept to market by uniting cutting-edge technology with the industry's foremost minds. Source from the world's largest collection of suppliers on one show floor. Connect with over 20,000 engineers and executives who are ready to forge business partnerships. Learn from industry luminaries presenting their insights. It's three days of industry immersion that medtech professionals simply can't afford to miss.
**Don't miss greenlight.guru's Jon Speer speaking with Mike Drues on day two, Wednesday, February 8th at 11:15 on Risk Management Challenges and Comparisons. Click here for more details.
February 19-23, 2017 - Orlando, FL
The 2017 HIMSS Annual Conference & Exhibition, February 19–23, 2017 in Orlando, brings together 40,000+ health IT professionals, clinicians, executives and vendors from around the world. Exceptional education, world-class speakers, cutting-edge health IT products and powerful networking are hallmarks of this industry-leading conference. More than 300 education programs feature keynotes, thought leader sessions, roundtable discussions and workshops, plus a full day of pre-conference symposia.
greenlight.guru is the only quality management software designed exclusively for medical device companies. You can view our full platform and services here.
February 21-24, 2017 - Munich, Germany
With innovative and effective software design, medical device manufacturers are able to go-to-market quicker and more successfully---as well as positively affect their product life-cycles. However, due to increased regulatory pressures, ensuring efficient design into product R&D, quality assurance, validation & verification, and other aspects of the product life-cycle can be challenging. By harnessing the appropriate tools to be more effective, medical device manufacturers are able to thrive within this highly-competitive marketplace. IQPC's Software Design for Medical Devices Summit was conceived to address the challenges, identify the opportunities and provide perspective on the applicable solutions within the industry, so that medical device manufacturers can be more competitive in today's time-sensitive, regulation-driven marketplace.
February 28 - March 1, 2017 - Raleigh, NC
CED is a powerful entrepreneurial network for technology-based companies. Their life science conference is a leading life science gathering in the United States, attracting nearly 1,000 participants year after year and connecting life science and MedTech companies to a diverse group of venture capital and corporate investors. Attendees will network with innovative thinkers and companies representing biotech, pharma, medical devices, digital health, diagnostics, drug delivery, and AgBio.
March 28-30, 2017 - Bethesda, MD
CDRH's 2016-2017 Strategic Priorities report makes clear they're making internal changes that will dramatically affect devicemaker's manufacturing and quality assurance programs. Internally, CDRH is shifting from their traditional regulatory approach, toward a model that is preventive of problems before they occur. By September 30, 2017, CDRH intends to increase by 25% the number of CDRH staff with quality and process improvement credentials. This March, FDAnews — lead by industry stalwarts Steven Niedelman of King & Spalding and Elaine Messa of NSF Health Sciences — have crafted a must-attend regulatory quality intelligence gathering Congress.
April 2-6, 2017 - Stuttgart, Germany
Medtec Europe brings together over 800 suppliers to meet with medical device manufacturers from over 60 countries. Six completely free seminar theatres and a hosted matchmaking service make a visit to Medtec Europe a must for manufacturers and therefore makes Medtec Europe the ideal place to meet decision makers from the world's second largest medical device market.
April 10-13, 2017 - Minneapolis, MN
The Design of Medical Devices Conference provides a national forum to bring together top medical device innovators. In its fifteenth year, this MedTech conference includes industry experts as keynote and featured speakers, plus four days of workshops, symposiums, scientific poster sessions, and technical/scientific sessions covering such topics as advances in medical devices, becoming a MedTech innovator, cardiovascular engineering, micro fluidic medical devices, wearable medical devices, and more.
April 23-24, 2017 - Cleveland, OH
Since 1988, BioOhio has held an Annual Conference to spotlight trends in Ohio's growing bioscience industry. As BioOhio enters its 30th year, we extend a special thank you to all of our attendees, speakers, sponsors and supporters for making past conferences so enjoyable. Visit the Past Events area of this website for more information on previous Annual Conferences. The 2017 BioOhio Annual Conference will be a celebration of statewide growth in all areas of bioscience, from medical devices, pharmaceuticals, lab equipment, and regenerative medicine, to agricultural compounds, alternative fuels, wellness products, clinical research, digital health, and wearables.
April 17-19, 2018 - Dublin, Ireland
This exceptional investment and networking event – recognized by the medical device industry as the leading medical technology investment forum in Europe – is taking place April 25th through 27th, 2017, at the historic and centrally located Shelbourne Hotel, Dublin, overlooking St. Stephen's Green. DUBLIN 2017 is hosted by The MedTech Strategist. The two-and-a-half-day forum will feature presentations by 40+ early-stage medical device companies from around the world, along with thought-leading guest speakers, on-stage interviews with key device executives and VCs, and insightful and timely panel discussions, all providing candid insight on topics of utmost importance to all stakeholders in the rapidly evolving global device marketplace. Our event will also feature the popular and exciting MedTech Innovator start-up competition, hosted by Paul Grand.
April 26-27, 2017 - Atlanta, GA
SEMDA's annual conference is the premier medical device forum fostering business and educational opportunities for investors, medical device companies, medical entrepreneurs, and related industry professionals in the southeast.
May 1-3, 2017 - San Diego, CA
The 10x Medical Device Conference is "the thought leaders forum for medical device executives." 2017 will be the fifth edition of this MedTech conference, which is a networking event for the Medical Devices Group, the world's largest medical device community. The hallmark of the 10x Medical Device Conference is the intimate setting of 250 guests and the lasting relationships attendees build with one another.
**Jon will be speaking at the 10x conference with David Amor on How To Prepare an FDA Pre-Submission. Click here for more details.
May 1-3, 2017 - Charlotte, NC
With more than 2,500 attendees from around the world, the World Conference is a premier international event. You have opportunities to share ideas with your domestic and global colleagues. Take this time to connect and make business relationships that will foster success for years to come.
May 2-5, 2017 - Cincinnati, OH
MedCon brings the global Medical Device community together to openly discuss the most pressing issues facing the industry. You have the opportunity to influence decisions and have your voice heard as you interact with leading FDA officials and field investigators, along with global industry experts at MedCon 2017 presented by Xavier Health.
May 3-4, 2017 - Boston, MA
BIOMEDevice Boston connects you with over 4,000 engineers and executives — as well as more than 400 leading suppliers — across New England's thriving design and manufacturing industry. In partnership with the Massachusetts Medical Device Industry Council (MassMEDIC), BIOMEDevice Boston is a powerful, end-to-end industry showcase. From contract manufacturing to components, this event delivers the full spectrum of cutting-edge solutions you need to make faster, cheaper, and smarter medical products.
May 17-18, 2017 - Chicago, IL
MedCity INVEST (formerly the MidAmerica Healthcare Venture Forum) is the premier national healthcare investing conference based in the Midwest, uniting active investors with corporate business development executives to facilitate investment opportunities with promising startups. More than 300 innovative thought leaders, prominent industry players, venture capitalists and angel investors will gather in Chicago May 17-18 to discuss the latest trends in investing, the business of medicine, the best opportunities and more. Attendees will have the chance to hear from and interact with leading healthcare experts and 30+ of the industry's most promising early-stage startup companies.
June 1, 2017 - Minneapolis, MN
MedTech Investing Conference is a must-attend MedTech conference that unites investors and entrepreneurs from the medical device industry to exchange information on trends, challenges, and areas of opportunity. This one-day MedTech event addresses company creation, successful fundraising, staging successful commercial launches, and everything in between.
June 9-22, 2017 - Austin, TX
AAMI 2017 is the premier conference for healthcare technology management. It is attended by more than 2,300 biomedical equipment technicians, clinical engineers, and others who manage or support medical devices for healthcare institutions. Educational sessions focus on practical solutions for the challenges that attendees face in their work every day. The Expo provides an opportunity to see the latest technologies from many of the world's leading medical-equipment manufacturers and service providers.
June 13-15, 2017 - New York, NY
The MD&M East Expo and Conference is the largest, most important and comprehensive medical manufacturing event on the East Coast. It's the gathering point for more than 500 leading medtech suppliers and manufacturers, including 3M, Abbott, The Tech Group, Phillips-Medisize, and Stratasys. Your pass gives you direct access to them all! Attend MD&M East to learn more about every aspect of the end-to-end medical device development process so you can solve your design, engineering, prototyping, and manufacturing challenges. Meet new suppliers from across the design and manufacturing production cycle. Get your hands on the latest groundbreaking medical technology. Make informed buying decisions. Differentiate your solutions from the competition. Keep ahead of regulatory issues and the competition.
**Jon will be Chairing the Design Control track at MD&M East 2017. greenlight.guru Customer Success Expert, Jesseca Lyons will also be presenting on, "When Design Input Requirements Go Wrong." Click here for more details.
September 9-12, 2017 - National Harbor, MD
RAPS' Regulatory Convergence addresses today's biggest challenges for regulatory professionals and regulators. Join your colleagues and peers for two action packed days of educational sessions you'll find nowhere else, led by renowned experts and inspiring thought-leaders from across the globe. Network and make contacts with regulatory's who's who -p all in one place. Plus, two extra days of deep-dive workshops, where you'll roll up your sleeves and take your foundational knowledge to the next level. You'll leave with the tools to do your job better and strengthen your organization's regulatory prowess.
**Be sure to stop by Booth 707 and meet part of the greenlight.guru team or send an email to LetsChat@greenlight.guru to set up a time to meet!
September 20-22, 2017 - Shanghai, China
MEDTEC China is the manufacturing sourcing event for medical device manufacturers in China, which has been successfully held for 11years. In 2015, over 301 global leading suppliers from 23 countries throughout the world, and over 350 brand suppliers and 70 new exhibitors ,presenting to you the latest medical research and design concepts and the most cutting-edge manufacturing technologies, The target visitor profile of MEDTEC China comprises senior management, R&D engineers, production engineers and QA professionals who are searching for components, materials, technologies and solutions for their production lines.
September 25-27, 2017 - San Jose, CA
AdvaMed 2017 is the leading MedTech Conference in North America, bringing more than 1,000 companies together in a uniquely multifaceted environment for business development, capital formation, innovative technology showcasing, world-class educational opportunities and networking. An event rich in international flavor and featuring a deep, diverse attendee list that includes influential policy-makers, business executives and media, AdvaMed 2017 seeks to advance industry discussion from key perspectives through detailed panel sessions, executive forums and more. It is a "must-attend" event for any medtech company. Whatever your goals may be, you are sure to accomplish, and even surpass them, at AdvaMed 2017.
**Be sure to stop by Booth 628 and meet part of the greenlight.guru team or send an email to LetsChat@greenlight.guru to set up a time to meet!
October 4-5, 2017 - Galway, Ireland
The West Coast of Ireland is home to eight of the top ten medical device manufacturers by turnover in the world. Galway is providing the hub for the vast majority of the industry, making this the ultimate regional event. Running for over 12 years, Medtec Ireland presents a suppliers with a highly respected and trusted forum in which to do business with this growing Irish industry.
October 4-5, 2017 - Chicago, IL
Join the discussion with over 175 of your industry peers as we explore the challenges and opportunities in product development, quality management, speed to commercialization, and regulatory harmonization. Hear first-hand case studies and walk away with strategic insights to streamline processes, reduce costs, and remain compliant in an ever evolving environment. This October we encourage you to join us for two days of thought provoking content and exceptional networking at the 2017 Generis American Medical Device Summit.
November 8-9, 2017 - Minneapolis, MN
MD&M Minneapolis and LifeScience Alley partner to present Minnesota Medtech Week. Attend the region's most comprehensive medical device event and benefit from access to world-class education and hundreds of critical suppliers. Learn to create more innovative products, discover improved reimbursement strategies, find new materials and designs for 3D printing, get first-hand advice from leaders at Minnesota OEMs, hospitals and payers, and enjoy countless networking opportunities.
November 13-16, 2017 - Düsseldorf, Germany
MEDICA is the world's largest event for the medical sector. For more than 40 years it has been firmly established on every expert's calendar. There are many reasons why MEDICA is so unique. Firstly, the event is the largest medical trade fair in the world – in 2016 it attracted more than 5,100 exhibitors from 70 countries in 17 halls. Furthermore, each year, leading individuals from the fields of business, research, and politics grace this top-class event with their presence — naturally alongside tens of thousands of national and international experts and decision-makers from the sector, such as yourself. An extensive exhibition and an ambitious program — which together present the entire spectrum of innovations for outpatient and clinical care — await you in Düsseldorf.
December 6-7, 2017 - San Jose, CA
Silicon Valley's Premier Event for Medtech Professionals. Whether it's mHealth or the Internet of Things (IoT), BIOMEDevice San Jose showcases emerging trends and innovations that will set the tone for the biomed industry in 2017 and beyond. The conference offers training on digital device trends and exploring effective ways to overcome barriers to market entry, all in a two-day Connected Health Device Development Summit. With thousands of attendees, more than 300 leading exhibitors, and numerous thought leaders set to meet face-to-face, BIOMEDevice San Jose is a must-attend opportunity for medtech professionals to accelerate industry knowledge and network.
October 18-19, 2017 - San Diego, CA
Focusing on both U.S. and international medtech manufacturing hubs, Medical Product Outsourcing's conference series has provided the medical device industry with the most comprehensive programs for more than 10 years. These highly informative symposiums address critical medical device outsourcing and manufacturing issues impacting multiple stakeholders within the industry.
November 28-29 - San Francisco, CA
Innovation in MedTech holds the Emerging Medical Technologies (EMT) Summit, an event for connecting and collaborating with leading MedTech innovators, investors, and deal makers. The date and location for the 2017 edition of the EMT Summit have yet to be determined, but the 2016 edition was a rousing success and hosted top medical device VCs and business development executives, plus management teams from some of the most promising start-ups in the device space. Presentations, panel discussions, and keynotes on the latest MedTech innovations are just some of the reasons to attend EMT Summit 2017.
---
---
Free Bonus Giveaway: Click here to instantly download a PDF of the Top 30 Medical Device Conference to Attend in 2017 to save and reference for yourself later (or share with a colleague).

---